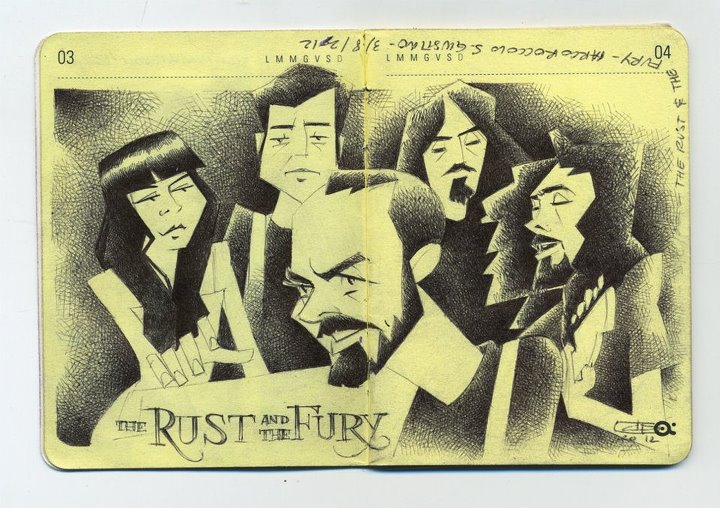 CHAPTER I- THE STORY
For me writing about The Rust and The Fury is like writing about myself.
I've had the privilege of living in Perugia for ten years, where I've shared lots of moments (musical and otherwise) with Daniele Rotella, a great friend and pioneer of the band. The Rust and The Fury have been my favourite local band since Daniele (vocals/guitar), Marco Zitoli (bass/vocals) and Andrea Ragni (drums) formed the group in 2004. Things slowed down for a while when Andrea left, and Daniele and Marco pursued other projects (including Mattaclast and Perfect Trick).
That was until the end of 2011 when new musicians entered the scene; Francesca Lisetto (keys/vocals); Francesco Federici (guitar/e-drums/vocals); and Andrea Spigarelli (drums). Together they seduced Central Italy, won a regional contest of Italia Wave 2012, and then set out to conquer the rest of the country. Their debut album May The Sun Hit Your Eyes materialized in September 2012 through La Dame Dischi and Cura Domestica labels. The first album is an absolute success. The sound has grown and matured. The contribution of the new members is remarkable, with their vocals working in perfect alchemy with Francesca and Francesco.
Their sonority is still linked to the American folk-rock music, but the arrangements are more refined and experimental, for example in Laughing for Nothing Summer 2012 has been full of satisfaction : they've been playing on the stages of Italy's most important music festivals, and the music press has started to take notice, especially the magazine Il Mucchio and their song Keep On has been chosen for the web spot of BMW MOTORRAD. Their hard work is beginning to pay off!
CHAPTER II – COPING WITH STORY
1st of October 2013, first day of recording for their second album.
For the occasion I've interrupted Daniele Rotella while he was in studio, and I've asked him a few questions.
F. How are you approaching the new album?
D. This album is for certain more rational than instinctive. We've been working hard on the sound we want to create . I can say that we're more scientific than in the past. Woodworm label , who is now producing us, is giving a huge help. We're growing up, in a very natural way!
F. In which direction would you like to go with your music?
D. Our own direction!! We are trying to be ourselves as much as we can.
F. How did the collaboration with Woodworm get started?
D. They contacted us. Working with them is an immense privilege. They've already worked with high level bands like Julie's Haircut and Fast Animal and Slow Kids. Their future is bright!!
F. When will the album be released?
D. February- March. We've got a great team around us. We know we have a great potential,, and we believe in it!!!
F. A last question, can I know the title of the album?
D. Top secret 🙂
Francesco Montanari
Tags:
The Rust And The Fury